Sarnoff's Featured Artist of the Month - Nina Duckett
ARTIST'S STATEMENT
Nina, Chewey and Louie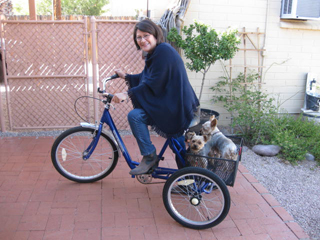 My paintings are statements of my love for life around Tucson and the wildlife and scenery of the Sonoran desert.  The vibrancy of the colors all around inspire me to paint the way I do.  To me the desert is like a carnival of colors.
I also draw a tremendous amount of inspiration from my own cultural background.  The inspirations may come in the form of an old song, a legend told to me by my Mita (Grandmother), or from 'dichos' ('sayings') I remember hearing around my family.  These are all treasures from my Latino roots which I feel immensely fortunate to have as a great fountain of cultural inspiration at my disposal.
Most of my paintings are realistic but sometimes I combine the brush and the pallet knife because this  blend of softness and richness allows me to achieve just the right feel for a particular painting. In the future I hope to do more impressionistic work.
My artist web site is:  ninaduckett.com
Contact is through artist representative Christine Palomino at: 
Christine4Artists@yahoo.com
---
WHY I SHOP AT SARNOFF'S
I first met Henry, the store's owner, in 2007.  It was in Glendale, Arizona at an art show that was being put on by The Arizona Art Alliance of which I was a juried member. I saw him looking at my paintings and soon we were in a conversation in which he complimented my painting of my beloved, Chewey, Yorkshire Terrier ("Properly trained a man can be dog's best friend" – Quote is from Corey Ford).  I also learned that he was there because his store was donating a fabulous large wooden easel through a drawing at the end of the show.  Seeing how I was in the market for just such an easel, I prayed the rest of the show that I would win.  However, it was not to be my lucky night but when I thankfully moved from the Paradise Valley area in Phoenix back to beautiful Tucson, I immediately went to look for Henry's store to purchase my very own easel.  Since then I have been a frequent shopper there because besides having everything that you cannot find anywhere else, you get great service and I get to talk with my friend Henry who is always ready with a smile and some great advice.  His advice which by the way, I took very seriously and have profited from greatly.  I look forward to continuing to shop at Henry's as my art career continues to grow here in the grand old Pueblo.
Nina Duckett
---
PUBLICATION QUOTES
"Brilliant Colors consume canvas after canvas in Nina Duckett's small studio blotting out blandness with hues of blood red, bold blue and glorious green"."Bold Colors Banish Bland" -  The Arizona Daily Star  – July 2011
"Duckett depicts the desert's flora and fauna realistically, yet with a dreamy ting.  There is a shimmering energy to her works that brings the subject to life".
"Tucson's Nature Depicted in Acrylics" -  Zocalo  Magazine  – May 2012
---
BIOGRAPHY
I am Nina Cuadra Duckett, born in Managua, Nicaragua.  I came to Tucson eleven years ago by way of California, Hawaii and Massachusetts.
Among other occupations, I have worked as a vocational nurse, as an instructor of migrant children and more recently, a realtor.
It was while attending real estate school that I first started to paint with acrylics as a form of relaxation.  That led me to the realization that creating art was a passion I could enjoy the rest of my life.
I consider myself a local Tucsonan artist since most of my growth as an artist happened here.  My quest is Impressionistic Art interpreted through my own cultural background in bold and beautiful colors.
ARTIST'S HISTORY
BORN- Managua, Nicaragua, 1950
EDUCATION
1969 – 2011
Galileo Nursing School, San Francisco, California
Mira Costa Community College, California
Paradise Valley Community College, Arizona
Acrylic Art, Margie Boyer (Instructor), Paradise Valley, Arizona
Acrylic Art, Guadalupe de la Torre (Instructor), Tucson, Arizona
EXHIBITIONS
2013, November - Open Studios- St. Augustine Cathedral, Tucson, AZ. 2013, September -  Murphy Gallery, Tucson, AZ. - "Mixed Show"
2013, July - The Contrera's Gallery, Tucson, AZ. - "The Hot Eight Mix".
2012, December - The Contrera's Gallery, Tucson, AZ. "Reflections of the Sonoran Desert".
2012, November - Open Studios- De la Torre Studios, Tucson, AZ.
2012, November - Coldwater Creek, La Encantada, Tucson, AZ.- "El Gallo Pedro and Friends".
June, 2012- Western National Parks Gallery, Tucson, AZ. - "Around Tucson".
May, 2012- The Contrera's Gallery, Tucson, AZ. - "Wild and Winged Beasties of Arizona".
December, 2011- Coldwater Creek, La Encantada, Tucson, AZ.-"Mad Tea Party".
November, 2011- Open Studios, Tucson, Arizona
July 2011- The Contrera's Gallery, Tucson, AZ. - "Juegos de Colores".
November, 2010- Open Studios- De la Torre Studios, Tucson, AZ.
October 2010- Coldwater Creek, Park Place Mall, Tucson, AZ. - "Luminarias".
2007- The Arizona Art Alliance Glendale Art Show- Glendale, AZ.
2006- The Arizona Art Alliance Glendale Art Show- Glendale, AZ.
DEMOS
Southern League of Fine Arts- Tucson, Arizona
The Pima Painting Club- Tucson, Arizona
PUBLICATIONS
The Daily Star-July 1, 2011
La Estrella de Tucson-July 8, 2011
Zocalo Magazine May 4, 2012
The Artery- Tucson, Arizona