Sarnoff's Featured Artist of the Month - Carrie Seid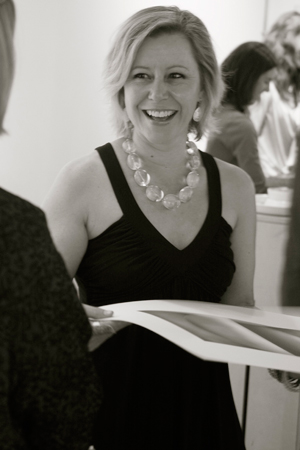 ARTIST'S STATEMENT
In my work I attempt to convey the anatomy of a feeling through form, structure, and the glow of saturated color.
The human experience of being simultaneously tenacious and vulnerable is referred to through the use of silk, a material which is delicate yet possesses a tensile strength greater than steel. Tension is built, both physically and metaphorically, as two elements quite opposed in character meet to form the surfaces and contours of the work. By combining these translucent and reflective materials, I am able to solidify and objectify ephemeral qualities of light.
My approach to structure reflects the progression and transformation seen in natural growth systems such as the chambered nautilus which leaves an ordered record of is its development, organic yet regular in design. The work captures the evanescent, while at the same time offering glimpses of that which is emerging to take its place.
The pieces are constructed using a plywood base, cut and formed sheet metals (copper, brass and aluminum), and silk. The metal forms an understructure which supports a stretched layer of silk. Modulated color (in the form of under-painting or dyed silk) is sometimes used to enhance depth, structure and dimension. The additional step of oiling the fabric "skin" creates various degrees of translucence, allowing the outer layer to be visually penetrable - a watercolor rendered in three dimensions.
"The physical description reduces their ephemeral qualities unjustly, failing to re-create the diaphanous veils of melting color, fusing from one space to the next. A simultaneity of resilience and vulnerability is created through the metal and membranes, like scars emerging from the interior of a cloud…

Painting and sculpture are too categorically limited for the emotional states of being that Seid so elegantly conjures up. Smoke and shadow, dissipation and loss, energy and anatomy- these physical references bring us closer to the ineffable life forces at the core of these mysterious assemblages."

                                                -Gerry Craig, Sculpture Magazine July/August 2000
---
---
Why I shop at Sarnoff's.
I have lived in Tucson for thirteen years now, during which time Sarnoff's has become a necessary and vital part of my practice as an artist. Every time I walk into the store, I feel like "Norm," walking into the bar on "Cheers", where everybody knows my name and uses it to greet me. I then receive immediate and professional help finding exactly what I need. If they don't have it, they will get it, and quickly. As an owner-operated store dedicated to expertise and personalized service, it's a rare breed and a Tucson treasure.

The quality of Sarnoff's products is of the highest level. I try to focus my visits on the items I came in for, but more often than not, a wonderful new pen or brush or specialty paper finds it's way into my bag. Sarnoff's is dense with goodness! It's a wonderful place to browse, dream, and try new things. And every time I go there, I half-expect Tad or Henry to hand me a cold beer in a frosty mug, along with my change.

Carrie Seid
Tucson, Arizona
---
Carrie Seid Biography
Originally from Chicago, Carrie Seid maintains a full time fine and public art practice out of her studio in Tucson. Her works are made primarily of metal, wood, and silk, and incorporate illumination and pattern investigation to conjure various states of being.
Seid received her B.F.A. from The Rhode Island School of Design in 1984, then went on to receive her M.F.A. from Cranbrook Academy of Art, where she was a Merit Scholar.
She has taught at numerous universities, including the School of The Art Institute of Chicago, Buffalo State University, Arizona State University, and The University of Arizona. Winner of the Purchase Award in 2003, her work is part of the permanent collection of The Tucson Museum of Art where she also had a solo exhibition. In February 2006, her work was featured on "Arizona Illustrated," hosted by Sooyeon Lee of KUAT television. Her public commissions in the Tucson area include the reception area of the Udall Senior Center, five projects at the Northwest Medical Center in Oro Valley, and the glass walkway in the courtyard of the Flowing Wells Community Center.
Carrie Seid is represented by numerous galleries around the country, including Lora Schlesinger Gallery in Los Angeles, Cain Schulte in San Francisco, Goya Contemporary in Baltimore, and Davis and Cline Gallery in Ashland, Oregon. In 2003, her work was featured in a solo exhibition at the Tucson Museum of Art.
Seid has lectured at many universities on the subjects of her artwork and the nature of creativity, and is currently working on new pieces for a solo exhibition at her LA gallery, opening June 25th. As a result of her twenty year teaching career in the arts, Carrie Seid is also working as a creativity consultant and facilitator, helping people clear paths for their creativity to bloom and grow. She currently conducts workshops on the subject of Creative Empowerment, as well as working with individuals, students, and corporate groups.
---
C  A  R  R  I  E    S  E  I  D
carrieseid@cox.net
www.carrieseid.com

http://creativeempowerment.tumblr.com

Education

1991
MFA, Cranbrook Academy of Art, Bloomfield Hills, Michigan

1984
BFA, Rhode Island School of Design, Providence, Rhode Island

Selected Exhibitions and Awards

2012
Solo Exhibition, Davis and Cline Gallery, Ashland, OR
2011
Solo Exhibition, "Animal and Mineral," Lora Schlesinger Gallery, Santa Monica, CA
2010
Solo Exhibition, "Radiance," Conrad Wilde Gallery, Tucson, AZ
"Art Miami," represented by Goya Contemporary Gallery
"Aqua" Art Exhibition, represented by Conrad Wilde Gallery
2009
Solo Exhibition, Goya Contemporary Gallery, Baltimore, MD
"Art Miami," represented by Goya Contemporary Gallery
"Aqua" Art Exhibition, represented by Conrad Wilde Gallery
2008
Solo Exhibition, "Different Light," Conrad Wilde Gallery, Tucson, AZ  
2006
"Ectasis," three-person exhibition, Joseph Gross Gallery, University of Arizona,
Solo Exhibition, Lucas Gallery, Telluride, Colorado
"Rising From Instinct," Conrad Wilde Gallery, Tucson, AZ
"Sculptural Elements," Courthouse Gallery, Ellsworth, Maine
2005
Solo Exhibition, "The Jacquard Series," Bentley Gallery, Scottsdale, Arizona
"She Objects," group exhibition,  Conrad Wilde Gallery, Tucson, Arizona
2004
Solo Exhibition, "Luminous Structures," Tucson Museum of Art, Tucson, Arizona
Juror, Arizona Student Sculpture Competition
2003
Arizona Biennial, Tucson Museum of Art, Tucson, Arizona
"Flat Art," Gallery of Functional Art, Los Angeles, California
Solo Exhibition, "Objects and Abstractions," Marshall Arts Gallery, Scottsdale, Arizona
2002
"Works on Paper," Marshall Arts Gallery, Scottsdale, Arizona
Vanier Gallery, exhibitions of gallery artists, Tucson and Scottsdale, Arizona
2001
Purchase Award, Tucson Museum of Art, Tucson, Arizona
Arizona Biennial Exhibition, Tucson Museum of Art,Tucson, Arizona
SOFA International Expo, R. Duane Reed Gallery, Navy Pier, Chicago, Illinois
Solo Exhibition, R..Duane Reed Gallery, Chicago, Illinois
"Figurative Metaphors," four person exhibition,  Rochester Art Center, Rochester, Minnesota
2000
Arizona State University Faculty Exhibition, Nelson Fine Arts Center, Tempe, Arizona
1999
SOFA International Expo, Sandy Carson Gallery, Park Avenue Armory, New York City
Solo Exhibition, Sybaris Gallery, Royal Oak, Michigan
Solo Exhibition, Soumi College of Art and Design, Hancock, Michigan
1998
SOFA International Expo, Sandy Carson Gallery, Navy Pier, Chicago, Illinois
1997
"Illuminating," Hyde Park Art Center, Chicago, Illinois
SOFA International Expo, Sybaris Gallery, Navy Pier, Chicago, Illinois
Solo Exhibition, "Unplugged," Artemisia Gallery, Chicago, Illinois
1996
"Chicago Abstraction," Klein Art Works, Chicago, Illinois
Solo Exhibition, Sybaris Gallery, Royal Oak, Michigan
Solo Exhibition, Artemisia Gallery, Chicago, Illinois
Members Exhibition, Artemisia Gallery, Chicago, Illinois
1995
Artemisia Exchange Exhibition, The Living Arts Museum, Reykjavik, Iceland
"Pleasure (Beyond Guilt)" Group Exhibition, Artemisia Gallery, Chicago, Illinois
1994
  Solo Exhibition, Sybaris Gallery, Royal Oak, Michigan
1993
"In Western New York," Albright-Knox Art Gallery, Buffalo, New York
"X-Sightings," Anderson Gallery, Buffalo, New York
1992
Solo Exhibition, "Gathering Light," Daemen College, Amherst, New York
1991
"18 X 1," Michigan Design Center, Troy, Michigan
"Recuerdos," Birmingham Bloomfield Art Association, Birmingham, Michigan
Master of Fine Arts Exhibition, Cranbrook Museum of Art, Bloomfield Hills, Michigan

1990
Merit Scholarship, Cranbrook Academy of Art, Bloomfield Hills, Michigan
"17 Alumnos," Universidad Ibero Americano, Mexico City, Mexico
1989
American Craft Council Juried Exhibitions: Baltimore, Maryland and Springfield,  Massachusetts
"Crafts at the Castle," Boston, Massachusetts
1988
American Craft Council Juried Exhibitions: Baltimore, Maryland and Springfield,  Massachusetts
"The Art of Craft," Newport Art Museum, Newport, Rhode Island
"Crafts at the Castle," Boston, Massachusetts
1987
American Craft Council Juried Exhibition, Baltimore, Maryland
"100 Craftsmen," Morristown, New Jersey
1986
"Crafts at the Castle," Boston, Massachusetts
First Prize, Jewish Community Center Holiday Exhibition, Providence, Rhode Island

Professional Experience

2012
Workshop Leader, "Creative Empowerment," Tucson, Arizona
2011
Creativity Facilitator, ASID Tucson Chapter, Board annual retreat; led seminar in creative visioning for the future of the organization, lectured on creativity
2010-2011
Creativity Facilitator, University of Arizona, Honors College, Tucson, AZ; lectured on creativity and led group activities
2006-2010
Professor of Practice, School of Art, University of Arizona, Tucson, Arizona; all levels of Fiber and Combined Media
2000
Visiting Assistant Professor, Fiber Department, Arizona State University, Tempe, Arizona; all levels of Fiber                       
Visiting Artist, Center for Creative Studies, Detroit, Michigan
Curriculum Development, Chicago Park District, Chicago, Illinois
1998-2000
Instructor, The School of the Art Institute of Chicago, Departments of Art History, Foundations  Program, and Fiber and Material Studies.
Visiting Sculptor, The International Sculpture Conference, Chicago, Illinois
1996-97
Instructor, Marwen Foundation, Chicago Illinois
Instructor, Providence St. Mel, Chicago Illinois; studio art and art history, K through 12th grades
1995-97
Co-President, Artemisia Gallery, Chicago, Illinois
1995
Co-Curator, "Pleasure" group exhibition, Artemisia Gallery, Chicago, Illinois
1993-1998
Principal, Stender + Seid Design, Inc., product design for Tag, Inc., Modulus, Inc., andTerragrafics, Inc.
1993
Instructor, State University College at Buffalo, Buffalo, New York
1992-93
Instructor, Niagara County Community College,
Daemen College, Amherst, New York
State University College at Buffalo, Buffalo, New York
1986-89
Sole Proprietor, SEIDLINE Jewelry, a company which sold nationally through both wholesale and retail markets
1987
Freelance Textile Designer, Burlington Industries, New York City
1984-86
Stylist, Burlington Industries, New York City

Public Art Commissions

2006-07 
Phoenix Arts Commission,  Terrazzo Floor Design for Fire Station 56, Phoenix, AZ
2005-06
Tucson-Pima Arts Council,  Flowing Wells Community Center courtyard floor design, Tucson
Oro Valley Arts Council, Oro Valley Public Library entry project, Oro Valley, AZ
2004
Oro Valley Arts Council, Five distinct projects for Northwest Medical Center,
Tucson-Pima Arts Council, El Presidio Neighborhood Association, wall design, Tucson, AZ
2002
Tucson-Pima Arts Council, Udall Senior Center lobby sculptural installation, Tucson, AZ
2001
Tucson-Pima Arts Council, Orange Grove Road noise walls design, Pima County, AZ

Reviews and Publications

2011
The Huffington Post
2006
The Tucson Weekly, "Movement and Metamorphosis,"  Margaret Regan
2005
The Tucson Weekly, "She Objects"  review by Margaret Regan
2003
Tucson Home Magazine, "Three of a Kind,"  by Charlotte Lowe-Bailey
2001
The Chicago Tribune, "Carrie Seid's Magic," by Alan Artner, Chicago, Illinois
The Arizona Daily Star, 'Biennial Has Its Standouts," by Charlotte Lowe Bailey
The Tucson Weekly, Arizona Biennial Review
2000
Sculpture Magazine, Review by Gerry Craig
The Detroit Free Press, "Sculpture Evolves on the Wall," by Keri Guten Cohen
1999
The Detroit Metro Times, review by Liz DiDonna
1998
Sofaexpo.com,  Review by Marge Levy
1997
The Chicago Tribune, Weekend section, October
1996
The Chicago Sun-Times, "Exhibit Conjures Emotion," by Margaret Hawkins
1989
The Providence Journal Bulletin, "Small Wonders"
1988
Accessories Magazine, "TALENT," March issue

Lectures

2000
Arizona State University, Tempe, Arizona
1999
The Art Institute of Chicago, "IKATS of Central Asia," Chicago, Illinois
Governor's State University, "IKATS of Central Asia," University Park, Illinois
1998
DuPage Textile Arts Guild, DuPage, Illinois
1997
SOFA International Exhibition, "Flexible Materials Transformed Into Art," Chicago, Illinois
The School of The Art Institute of Chicago, Chicago, Illinois
1996
Cranbrook Academy of Art, Bloomfield Hills, Michigan
1994
The Center for Creative Studies, Detroit, Michigan
Cranbrook Academy of Art, Bloomfield Hills, Michigan
1992
State University College at Buffalo, Buffalo, New York
1991
Daemen College, Amherst, New York
1990
Universidad Ibero Americano, Mexico City, Mexico